WE STAND BEHIND OUR PRODUCTS WITH OUR E-Z REPLACEMENT PROGRAM.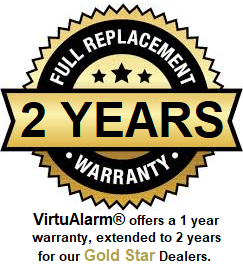 Our Exclusive 1 Year Warranty, Extends to 2 Full Years
For Our 

GOLD STAR

Dealers.
The following product replacement conditions apply:
1. Applies only to transmitters purchased from VirtuAlarm® or any of its authorized distributors in the U.S. or Canada.
2. Offer void if transmitter tampered with, or damaged due to incorrect installation, power surge, lightning damage, water damage, physical damage, or for cellular service issues.
3. Transmitter must not be cancelled in VirtuAlarm® by Dealer to preserve history and to allow further testing.
4. Transmitter must be fully tested in the Customers location, with a VirtuAlarm® technical support over the phone, by calling (1-800-681-6791).
5. Upon confirmation of transmitter being defective with VirtuAlarm®, Dealer to replace the Transmitter with exact replacement model.
6. Technical Support will then will replace the DEVICE ID in VirtuAlarm® with the replacement DEVICE ID to waive new setup fees.
7. Technical Support will then verify proper operation of replacement device prior to issuing the Dealer a return authorization number.
8. Complete the form below, entering the return authorization number when requested and print off a copy.
9. Return the transmitter at Dealers expense to the same location you purchased it, with a copy of the completed form below.
10. Upon receipt of the defective transmitter and a copy of the this Return Authorization Form, a replacement device will be sent to you. (S &H May apply.)
FAILURE TO FOLLOW ANY OF THESE STEPS WILL VOID PRODUCT WARRANTY
Are you a VirtuAlarm®

GOLD STAR

Dealer?
If you have

100

or more accounts with VirtuAlarm® or Subscribe to a
Multi-User

M2M ALL ACCESS M2M PORTAL, you're a

GOLD STAR

Dealer!