WE STAND BEHIND OUR PRODUCTS WITH OUR E-Z REPLACEMENT PROGRAM.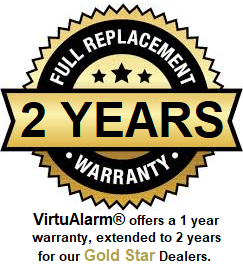 Our Exclusive 1 Year & 2 Year Warranty 

For 

GOLD STAR

Dealers
DO NOT DELETE ANY DEVICE FROM YOUR DASHBOARD OR WARRANTY BECOMES VOID!
Follow these steps for Warranty Replacement and Service Refunds for any ipAlarm or M2M transmitter

VirtuAlarm

® sells.
WARRANTY ITEM RETURNS:
1.  Complete the form on the BOTTOM of this webpage for EACH DEVICE you are requesting a warranty replacement on.
2. Print and attach a copy of the submitted warranty replacement form emailed back to you upon completion to the device.
3.  Return the device to the address listed on the warranty replacement form emailed to you.   ( If shipping internationally, mark the envelope

"RETURN FOR REPAIR"

to prevent Taxes & Duties.)
WARRANTY ITEM PROCESSING:
1.  Within 30 days of receipt, VirtuAlarm® will review the device to confirm it is still within warranty.  If it is not,  you will be notified of your options by email.
2.  If the device is within warranty, and found defective, you will be notified of any

*

depreciation fees due for replacement prior shipping a replacement unit. ( 

*

Depreciation begins 60 Days after initial purchase at the rate of 5% per month of the devices original purchase price. )
  

WARRANTY TERMS:
(a) Dealer

MUST NOT DELETE

the VirtuAlarm Customer account for the covered device in their dealer dashboard.
(b) Dealer to

COPY

the Customer account and use a new device ID and user ID to replace the device being returned for warranty. (Must be similar device type.)
(c) Dealer to set Central Station reporting to "

NONE

" on original device account in Dealer dashboard. (We will delete device after testing & issue credits for services.)
(d) Device must have been purchased either from VirtuAlarm directly or an authorized distributor with proof of purchase if needed.
(f) Warranty not extended to devices received under any free, promotional or replacement programs, including use of express services. 
(g) Warranty extended beyond devices initial installation/account number and is non-transferrable.
(h) Warranty term on any covered device shall not exceed 12 months from original purchase date or first use for for any Dealer with 100 or less warranty type devices in payable service with VirtuAlarm.
(i) As of September 1st, 2019, the warranty term on any covered device shall not exceed 24 months from original purchase date or first use for for any Dealer with 101 or more warranty type devices in payable service with VirtuAlarm at the time of purchase of the device requesting warranty replacement.
(j) If Device currently in use, any warranty claim must be filed within 30 days of covered devices last signal or warranty void.
(k) Returned covered devices must be post marked prior to warranty expiration date in order to be valid.
(k)  If after testing covered device is found to be in working condition, a $35.00 bench testing fee will be charged to Dealer.
(l) Warranty void if transmitter damaged due to incorrect installation, power surge, lightning damage, water damage, physical damage or tampering.
(m) Dealer is responsible for any shipping costs including taxes or duties.
(n) Dealer has 30 days to respond to warranty department requests or device may be disposed of with no liability to VirtuAlarm.
(o) Upon determination a returned device is covered under warranty, Dealer may at their option choose one of two refund options: (a) Have VirtuAlarm ship them a like kind device after re-paying the 5% per month depreciated value of the device plus return shipping.  or (b) or have 50% of the remaining value of the device issued as a refund.
(p) Any fees, charges, refunds or credits issued under this warranty shall be issued to Dealers VirtuAlarm Account only.
(q) If a covered device is purchased from an authorized distributor, any warranty claim made within 60 days of purchase, requires the device to be sent directly back to the distributor for replacement.