WE STAND BEHIND OUR PRODUCTS WITH OUR E-Z REPLACEMENT PROGRAM.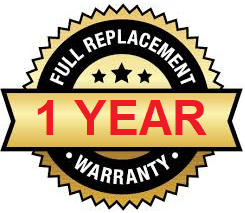 Our

NEW

100% Warranty Replacement Program!
For any ipAlarm or M2M transmitter sold through VirtuAlarm®.
WARRANTY ITEM RETURNS:
1.  Complete the form on the BOTTOM of this webpage for EACH DEVICE you are requesting a warranty replacement on.
2. Print and attach a copy of the submitted warranty replacement form emailed back to you upon completion to the device.
3.  Return the device to the address listed on the warranty replacement form emailed to you.   ( If shipping internationally, mark the envelope

"RETURN FOR REPAIR"

to prevent Taxes & Duties.)
WARRANTY ITEM PROCESSING:
1.  Within 30 days of receipt, VirtuAlarm® will review the device for warranty coverage.  Once verified, you will be sent a replacement device at no charge other than shipping.
  

WARRANTY TERMS:
(a) VirtuAlarm warranty coverage requires Dealer to fully test device with VirtuAlarm technical phone support, prior submitting online warranty Claim.
(b) Upon completion of testing the device with a VirtuAlarm Technician, Dealer is responsible to delete the device account from their Dealer Dashboard.
(c) Warranty coverage is only extended to ipAlarm Transmitter Products and M2M Services Transmitter Products.
(d) Warranty is extended only to new, unused devices purchased directly from VirtuAlarm or an authorized Product Distributor with proof of purchase, if so requested.
(e) Warranty for any covered device is 12 months (365 days) from Dealers purchase date.
(f) Warranty does not extend beyond devices initial installation or first account.
(g) Warranty void on devices received under any free, discount, promotional, warranty or replacement offers.
(h) Warranty void on devices placed under express services or without signal forwarding to a monitoring center.
(i) Warranty void on failed devices due to cellular services, water, power, lightning, or damage, including tampering or attempts at opening device encasement.
(j) Online warranty claims to be submitted within 30 days of a devices last signal or initial activation attempt.
(k) Return of warranty claim device must be post marked within the 12-month warranty period and within 30 days of initial online claim form submission.
(l) Upon determination a device is covered under warranty, the device may be repaired at no cost to the Dealer.
(m) If repair on a warranty device is not possible, VirtuAlarm may replace said device a similar one at its option.
(n) Warranty devices returned to Dealer shall be pre-activated at Dealers cost, to allow complete testing.
(o) Dealer shall be responsible for shipping costs, including any taxes, duties, or brokerage fees if applicable.
(p) VirtuAlarm is authorized by the Dealer to charge their VirtuAlarm Dealer Account for any warranty fees required.