WE STAND BEHIND OUR PRODUCTS WITH A

"NO QUESTIONS, HASSLE FREE" 

REPLACEMENT.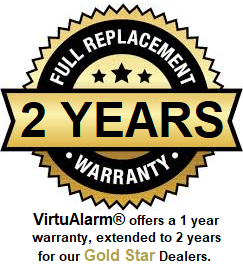 "Return any defective device to the distributor it was purchased from, for a no questions, hassle free replacement."
Our Exclusive 1 Year Warranty, Extends to 2 Full Years
For Our 

GOLD STAR

DEALERS.
The following product return conditions apply:
Applies to transmitters purchased from VirtuAlarm® or any of it's authorized distributors in the U.S. or Canada.
Warrantied transmitter must be replaced with a similar model transmitter at alarmed premises.
Warrantied transmitter must be shop tested with a VirtuAlarm® technician over the phone, by calling (1-800-681-6791).
Upon confirmation of transmitter defect, VirtuAlarm® will provide you with a return authorization number.
Complete the form below, entering the return authorization number when requested and print off a copy.
Return the transmitter to the same location you purchased it, with a copy of the completed form below to receive a replacement.
FAILURE TO FOLLOW ANY OF THESE STEPS WILL VOID PRODUCT WARRANTY
Are you a VirtuAlarm®

GOLD STAR

Dealer?
If you have 100 or more accounts with VirtuAlarm® or Subscribe to a Multi-User M2M ALL ACCESS M2M PORTAL, your a

GOLD STAR

Dealer!