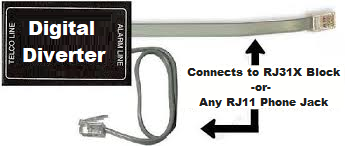 DIGITAL DIVERTER Model # DDVA – (Alarm Signal Re-Director)
No Monthly Data or Signal Fees!
Back when alarm communications were only sent over a telephone lines, alarm panel installation and monitoring was fairly easy to set up or take over from one monitoring center to another.  Then came installer codes and programming lock out capabilities.  The Digital Diverter was created to allow the ability to take over the locked out alarm panel without the need to unlock the alarm panel programming. The Digital Diverter works with

all alarm formats

 with POTS lines, Land Lines or Digital VoIP Lines.
Just connect the telephone line powered Digital Diverter between the alarm panels modular phone cord and the premises RJ31X or RJ11 telephone jack.  It automatically routes the alarm signals through the VirtuAlarm service platform, allowing the alarm signal to be re-routed to any monitoring center in the world, using any account number you choose.